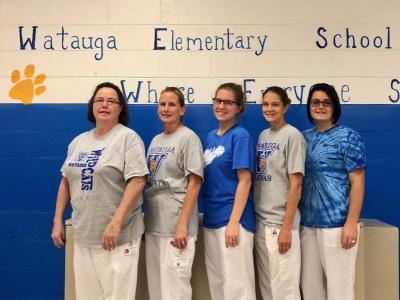 WES Cafeteria Team
Rose Stiltner, Manager
Cafeteria Staff:
Frances Deel
Kim Marmarella
Kayla Hagy
Brittany Robinson
Watauga Elementary School offers a breakfast and a hot lunch program administered by a registered dietitian.
Breakfast is served beginning at 7:35 a.m.
Students arriving after a certain time receive bag breakfasts to take to their classrooms.
Lunch is served from 10:35 a.m. to 1:10 p.m.
Parents are always welcome to eat lunch with their children.
Watauga Elementary uses a great new service to prepay for your child's school breakfast, lunch and a la carte items using your credit card or debit card. See K12PaymentCenter

Breakfast and Lunch Prices
Breakfast
Full price student: $1.50
Reduced student: $0.30
Staff: $2.25
Visitors: $2.75
Milk: $0.50
Lunch
Full price student: $2.15
Reduced student: $0.40
Staff: $3.50
Visitor: $3.95
Milk: $0.50
Lunch Menus for all levels can be found HERE! Once you click on the link, scroll down to the middle of the page to find the menus.